Model: K587 Air Release Value Apparatus
Measures the air release properties of fire-resistant oil, hydraulic oil, lubricating oil, turbine oil and other petroleum products;
The ability of a turbine oil, hydraulic oil, or lubricating oil etc. to separate entrained air is a key performance characteristic in applications where agitation causes a dispersion of air bubbles in the oil. To determine air release properties, the sample is heated to a specified test temperature and blown with compressed air. After the air flow is stopped, the time required for the air entrained in the oil to reduce in volume to 0.2% is the air bubble separation time.
Conforms to ASTM D3427 and related standards.
Features
High accuracy temperature control;
Large screen LCD;
Integral gas source;
Gas will be supplied automatically once the presetting temperature is reached.
Technical specification
Temperature control range: Ambient temperature --- 100°C
Water temperature control accuracy: <± 1°C
Gas temperature control accuracy: <± 3°C
Gas pressure: 0.2kgf/cm2
Ambient temperature: 5°C --- 40°C
Power supply: AC 220V, 50Hz
Dimensions: 480 x 320 x 520mm
Net weight: 30kg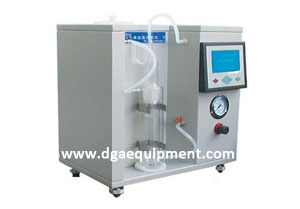 If you would like to discuss your requirements for this product further, please email us at
sales@dgaequipment.com
or use our enquiry form.