Model: K592 Copper Strip Corrosion Tester
Determines the relative degree of copper corrosiveness of petroleum products, including aviation hydraulic oil, jet fuel, motor gasoline, solvent oil and lubricating oil etc. A polished copper strip is immersed in sample at elevated temperature. After the test period, the strip is examined for evidence of corrosion.
Suitable for GB/T 5096, GB/T 7326, ASTM D130, ISO 6251
Features
PID temperature control
Accurate temperature controlled test tube bath
Technical specifications
Temperature control range: Ambient temperature --- 100°C
Temperature control accuracy: ±1°C
Test tube: 4
Accommodated sample: 4 --- 12
Bath medium: Water or high temperature heater transfer fluid
Environment temperature: 5°C --- 40°C
Relative humidity: <85%
Power supply: AC 220V, 50Hz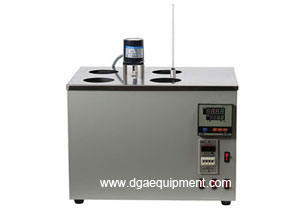 If you would like to discuss your requirements for this product further, please email us at sales@dgaequipment.com or use our enquiry form.