Model: K681 Interfacial Tension Tester
Measures the interfacial tension of oil against water.
Measures the surface tension of various liquids, including oil, ink, soap, detergent, pharmaceutical compounds, adhesives and a wide range of coatings.
Conforms to ASTM D971 and ISO 6295. CE Mark.
Features
Du Noüy Platinum Ring method measurements;
Microprocessor control;
Auto-measuring, auto-printing etc.;
Color large LCD display.
Technical specification
Measuring range of insulating oils: 5 - 100mN/m
Measuring range of other liquids: 5 - 200mN/m
Sensitivity: 0.1mN/m
Accuracy: 0.3mN/m
Resolution: 0.1mN/m
Repeatibility: 0.3%
Ambient temperature: 5°C - 40°C (typically 25°C)
Relative humidity: 20% - 75%
Power supply: AC 220V, 50Hz
Dimensions: 270 x 190 x 380mm
Net weight : 9kg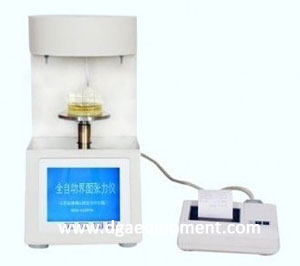 If you would like to discuss your requirements for this product further, please email us at
sales@dgaequipment.com
or use our enquiry form.