Model: K590A Automatic Distillation Analyzer
Measures the distillation characteristics of gasoline, aviation gasoline, jet fuel, solvent with special boiling point, naphtha, diesel oil, distillate fuel and similar petroleum products;
Conforms to ASTM D86 and related international specifications.
Technical specification
Power supply: AC 220V±10%, 50Hz
Furnace quantity: 2 sets
Heating power: 1000w, adjustable
Measuring flask volume: 100mL
Distillation flask: 125mL
Thermometer: Total immersion type. Measurement ranges are -2℃ --- +300℃ and -2℃ --- +400℃ respectively
Ambient temperature: Room temperature --- 35℃
Relative humidity: ≤85%
Dimensions: 730 x 530 x 580mm (L x W x H)
Net weight: 38kg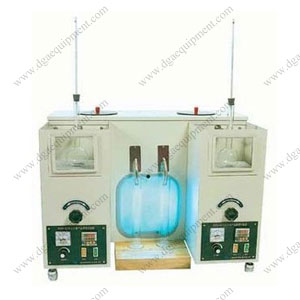 If you would like to discuss your requirements for this product further, please email us at sales@dgaequipment.com or use our enquiry form.