Model: K591A Solidifying Point Apparatus (-70℃)
Measures the solidifying point of petroleum products up to -70℃. The highest temperature at which stopping movement of the oil is observed (solidifying point).
Technical specification
Power supply: AC 220V±10%, 50Hz
Working station: One chamber with two test bathes. Both bathes are the same temperature.
Cold chamber temperature control range: -70℃ --- room temperature
Temperature control accuracy: ±0.5℃
Cooling system: Compressor cooling
Ambient temperature: ≤30℃
Relative humidity: ≤85%
Dimensions: 450 x 530 x 350mm (L x W x H)
Net weight: 28kg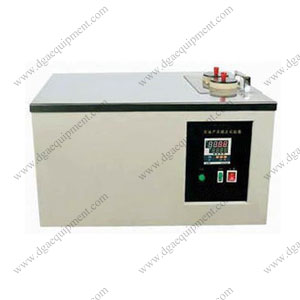 If you would like to discuss your requirements for this product further, please email us at sales@dgaequipment.com or use our enquiry form.