Model: K612 Automatic Cleveland Open Cup Flash Point Tester
For flash point and fire point of all petroleum products, except fuel oils and other petroleum products having an open cup flash below 79℃.
For flash point aboves 79℃.
Conforms to ASTM D92 and related specifications.
Features
Heating speed is adjustable to suit various standards;
Auto-heating, auto-flame applicating, auto-igniting, auto-measuring, auto-printing out and auto-cooling etc.;
Automatic barometric correction;
Heating will be stopped automatically if the temperature surpasses the setting value for safety;
Power source will be cut-off automatically after the test is finished;
Self-diagnostic function;
26000-color TFT screen display;
High precision ionization ring detection method;
High sensitive temperature sensor;
Strong stainless steel shell.
Technical specification
Maximum measuring flash point: 370℃
Measuring accuracy: 2℃
Repeatability: ±4℃
Resolution (display): 0.1℃
Built-in forced-air cooling system
Integral thermal printer
Ambient temperature: 10℃ - 55℃
Relative humidity: 30% - 80%
Power supply: AC 220V, 50Hz
Dimensions: 370 x 340 x 310mm
Net weight : 11.7kg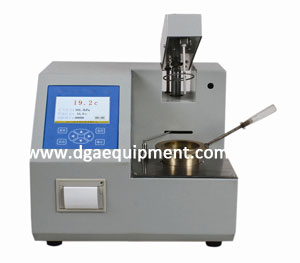 If you would like to discuss your requirements for this product further, please email us at
sales@dgaequipment.com
or use our enquiry form.