Model: K613S Cleveland Open Cup Flash Point Tester
Measures the flash points and fire points of all petroleum products, except fuel oils and those having an open cup flash below 79°C.
Conforms to ASTM D92 and related specifications. CE certification.
Consists of flame applicator, brass test cup (Cleveland open-cup), thermometer support, thermometer, heating plate and electric furnace. Flame applicator is precisely aligned for flame test application at a specific temperature. Hinged thermometer support raises to facilitate placement and removal of test cup. Flame size can be adjusted.
Technical specification
Power supply: AC 220V, 50Hz
Heating device: Quartz tube furnace heating
Thermometer: -6°C --- 400°C, scale division 2°C
Igniting device: Ignition sources are coal gas or other civil gas
Ambient temperature: -10°C - 50°C
Relative humidity: ≤ 85%
Dimensions: 350 x 290 x 350mm
Net weight : 8kg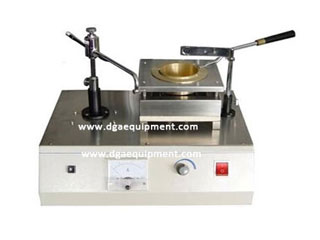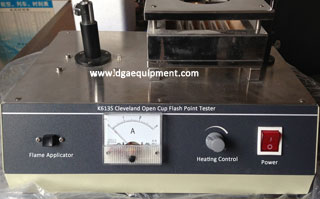 If you would like to discuss your requirements for this product further, please email us at
sales@dgaequipment.com
or use our enquiry form.