Model: K614 Automatic Pensky-Martens Closed Cup Flash Point Tester
For flash point determination of fuels, lubricating oils and other petroleum products.
Conforms to ASTM D93 and ISO 2719.
Features
Auto-lifting, auto-temperature controlling, auto-igniting, auto-measuring, auto-printing and auto-cooling etc.;
Both temperature increasing speed and mixing speed are adjustable to suit various standards;
Automatic barometric correction;
Heating will be stopped automatically if the temperature surpasses the setting value;
Self-diagnostic function;
26000-color TFT screen display.
Technical specification
Maximum measuring flash point: 370℃
Measuring accuracy: flash point belows 110℃, ±1℃; flash point aboves 110℃, ±2℃.
Resolution (display): 0.1℃
Built-in forced-air cooling system
Integral thermal printer
Ambient temperature: 10℃ - 40℃
Relative humidity: 30% - 80%
Power supply: AC 220V, 50Hz
Dimensions: 370 x 340 x 310mm
Net weight : 11.7kg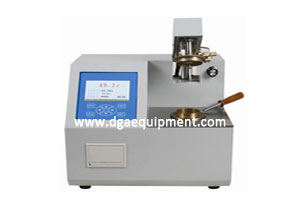 If you would like to discuss your requirements for this product further, please email us at
sales@dgaequipment.com
or use our enquiry form.