Model: K624 Automatic Kinematic Viscosity Bath
Measures the kinematic viscosity of lubricant oil and other petroleum products at precisely controlled temperatures. Kinematic viscosity is of primary importance in the design and selection of a wide range of petroleum products.
Conforms to ASTM D445 and related specifications. CE certification.
Features
Standard 4 testing holes (2 testing holes or others are available by requirement.);
Automatically calculate the kinematic viscosity;
User-friendly interface;
0.01 degree accuracy;
TFT-LCD screen;
External printer connection port (Built-in printer is available by requirement.).
Technical specification
Temperature control range: 0 - 100℃
Temperature control precision: 0.01℃
Capillary viscometer accommodated: 4 glass capillary viscometers (4 viscometer holders)
Ambient temperature: 5℃ - 40℃
Relative humidity: < 85%
Power supply: AC 220V, 50Hz
Dimensions: 520 x 380 x 450mm
Net weight : 19kg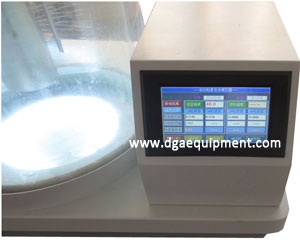 If you would like to discuss your requirements for this product further, please email us at
sales@dgaequipment.com
or use our enquiry form.