Model: K632 Total Acid Number Analyzer
It is an automatic type TAN (Total Acid Number) analyzer to measure the acid number in transformer oil, lubricant oil and other petroleum products. TAN test can maintain and protect your equipment, prevent damage in advance. Both the weak organic and strong inorganic acids present within the oil can be measured with the TAN test. A rise in TAN is indicative of oil oxidation due to time or operating temperature.
Conforms to ASTM D664, GB/T 264 and related specifications. CE Mark.
Technical specfication
Sample test station: Six (Maximum 6 samples are tested in a single run.)
Measuring range: 0.0001 - 1.0mgKOH/g
Resolution: 0.0001mgKOH/g
Repeatability: 0.0003mgKOH/g
Measuring accuracy: ±0.002mgKOH/g
Display and operation: Color touch screen
Ambient temperature: 10°C - 55°C

Relative humidity: 30% - 80%
Power supply: AC 220V, 50Hz
Dimensions: 390 x 240 x 190mm
Net weight : 8.5kg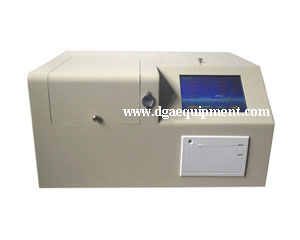 If you would like to discuss your requirements for this product further, please email us at
sales@dgaequipment.com
or use our enquiry form.