Model: K5920 Gasoline Octane Number Test Machine
The quantitative determination of the knock rating of liquid spark-ignition engine fuel in terms of research and motor octane numbers.
Conforms to ASTM D2699, ASTM D2700, GB/T 503 and GB/T 5487.
Features and Benefits
Both Reseach octane number testing and Motor octane number testing are available.
Gasoline octane number and knock rating obtained.
Manual control of compression ratio ensures stability and accuracy.
Digital displaying engine power.
Real-time monitoring temperatures of engine oil temperature and cooling water.
Cumulative timing for engine.
Cooling liquid column adopts stainless steel to ensure cooling performance.
High repeatability.
Specifications
Testing range: 40 - 120 octane number
Engine rotation speed: Motor 900±2rpm, Research 600±2rpm
Cooling liquid temperature: 100±1.5°C, deviation for each test is ±0.5°C
Air heating temperature: Motor 100±1°C, Research 52±1°C
Spark advance angle: (ε= 5.5) Motor (top point)24°±2°, (ε= 6.66) Research (top point)13°±1°
Intake valve clearance: 0.2mm
Exhaust valve clearance: 0.25mm
Spark plug clearance: 0.5mm
Gap between piston head and cylinder cover: (ε= 5.5)17.5mm
Compression pressure: (ε= 5.5) 0.7 - 0.85Mpa
Cylinder bore: 65mm
Stroke: 100mm
Compression ratio: 4:1 - 12:1 (manual control)
Fuel pressure under operating temperature: >0.15MPa (pressure meter display)
Ambient temperature: 20°C - 30°C
Relative humidity: 40% - 70%
Power supply: AC 380V, 50Hz (or At user's option)
Dimensions: 1550 x 760 x 1350mm
Weight: 800kg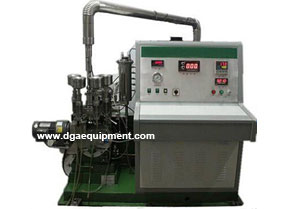 If you would like to discuss your requirements for this product further, please email us at sales@dgaequipment.com or use our enquiry form.