Model: MG-V Volume Resistivity Analyzer
Suitable for determining the volume resistivity of electrical insulating oil, fire resistant oil, etc.
Double cups design. One cup for low temperature testing, the other cup for high temperature testing.
LCD screen, built-in thermal printer.
Fully automatic operation. High efficiency.
Suitable for ASTM D1169, DL 421. CE Mark.
Technical specification
Power supply: AC 220V, 50Hz
Testing voltage: DC 500V
Testing range: 2.5 x

- 2.5 x

Ω•cm
Temperature control range: Low temperature 20°C, high temperature 90°C
Temperature control accuracy: ≤ ± 0.3 °C
Test cup: 2 cups
Power: ≤ 300W
Ambient temperature: 0 - 40 °C
Relative humidity: < 80%
Dimensions: 430 x 340 x 275mm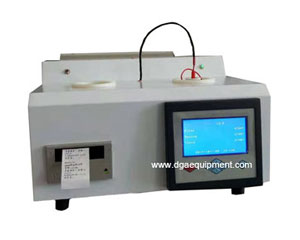 If you would like to discuss your requirements for this product further, please email us at
sales@dgaequipment.com
or use our enquiry form.