Model: K581 X-ray Fluorescence Sulfur-in-Oil Analyzer
Measure the mass(%) of total sulfur in crude petroleum, petroleum, heavy oil, diesel oil, gasoline and naphtha; to test total sulfur content in products of coal chemical industry, for instance primary benzene; to test total sulfur or sulfide in other liquids or solid power samples.
Conforms to ASTM D4294 and related specifications.
Features
Adopting method of Fluorescence Intensity Ratio Analysis, it can analyze various kinds of samples, wide testing range, rapid analyzing, less sample quantity consumption;
Electro-mechanical integration design, microprocessor control, LCD display, user-friendly interface;
Self-diagnostic function. It can judge itself working state and electric parameters. Temperature and pressure can be corrected automatically, also ratio of carbon and hydrogen (C/H) can be corrected;
Adopting disposable Mylar film sample vessel, it can avoid cross contamination;
Sample vessel is made by multifunctional press, rapid and convenient. Sample serial number, S%(m/m) and date can be recorded;
Sample holder precisely positioned; it automatically moves out from inside of instrument when testing sample; Easy for loading sample and replacing anti-leakage parts; also to avoid contamination to detection system;
Large test data storage. Analysis result and calibration curve parameter can be checked at any time;
Built-in thermal printer;
RS232 serial port;
Sale and reliable X-Ray protection measure.
Technical specification
Measuring range: 7ppm --- 5%
Measuring accuracy: Repeatability<0.029 (S + 0.6) and Reproducibility<0.063 (S + 0.6)
Sample quantity: 2 --- 3ml
Measuring time: 60, 120, 240, 300 and 600seconds set at random
Sample testing: Single-sample tested automatically; Testing times(2, 3, 5, 10 and 50 times) set at random; average value and standard deviation presented after test.
Calibration curve storage: 9 calibration curves can be saved. (5 curves are linear equation with one unknown and 4 curves are binomial parabola.)
Power supply: AC 220V, 50Hz
Dimensions: 468 x 368 x 136mm (L x W x H)
Weight: 13kg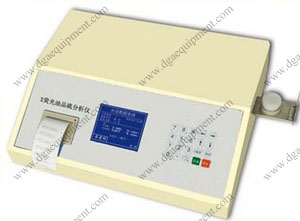 If you would like to discuss your requirements for this product further, please email us at
sales@dgaequipment.com
or use our enquiry form.