Model: K583 Density Meter
Measures the density of petroleum products at a constant temperature, and then convert into the standard density. Density is a fundamental physical property that can be used in conjunction with other properties to characterize the quality of crude oils, light and heavy fractions of petroleum and petroleum products.
Conforms to ASTM D4052, ASTM D1250 and ISO 3675. CE Mark.
Technical specification
Temperature control range: Room temperature - 100°C
Resolution: 0.1°C
Temperature control accuracy: ≤±0.1°C
Sample testing station: 2 (2 samples can be measured at a time)
Ambient temperature: 0 - 40°C
Relative humidity:<80%
Power supply: AC 220V, 50Hz
Dimensions: 530 x 380 x 550mm
Net weight : 20kg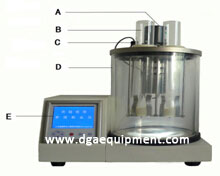 If you would like to discuss your requirements for this product further, please email us at
sales@dgaequipment.com
or use our enquiry form.