Model: K653 Coulometric Karl Fischer Titrator
Measures the trace concentrations of water in a wide range of liquid and powder samples by Coulometric Karl Fischer titration method. It is used for determining water content in oils, gasolines, solvents, fluids, as well as other products such as pharmaceuticals and cosmetics.
Conforms to ASTM D1533, ASTM D4928, ASTM D6304. CE Mark.
Features
Microprocessor-controlled Coulometric Karl Fischer titration;
Sample types include liquid, solid and gas;
Simple operation;
5.7" HD color touch screen;
Integral high-speed thermal printer to print out test result;
Self-diagnosis function.

Technical specification
Titration method: Coulometric Karl Fischer titration
Measuring range: 2μg - 200mg water (Typical value 10μg - 100μg)
Electrolysis control: automatical electrolysis current control
Maximum current: 400mA
Maximum titration speed: 1mg per minute
Maximum sensitivity: 0.1μg
Precision: below 10μg water, or 10μg - 1mg water, ±3μg; above 1mg water, ±0.3%
Data storage: 250 data
Calculation formula: 6 formulas
Water content calculation: PPM, Percent %
Calendar/clock: analysis time and date (year, month, day, hour, minute, second)
Printer: high-speed thermal printer
Ambient temperature: 5°C - 40°C
Power supply: AC 220V, 50Hz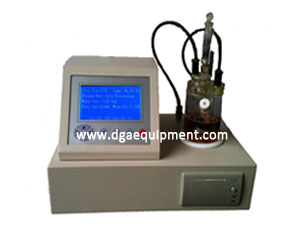 If you would like to discuss your requirements for this product further, please email us at sales@dgaequipment.com or use our enquiry form.
Transformer oil breakdown voltage tester
Transformer oil dissolved gas analyzer