Model: GC3000 Portable DGA
GC3000 Portable DGA is a portable gas chromatograph that performs dissolved gas analyisis on transformer oil.

7 fault gases measured: Hydrogen (H2), Carbon monoxide (CO), Carbon dioxide (CO2), Methane (CH4), Ethylene (C2H4), Ethane (C2H6), and Acetylene (C2H2).
Both Oxygen (O2) and Nitrogen (N2) can be measured by special O2/N2 device.

Conforms to ASTM D3612, IEC 60567

Features
(1) Measurement of 7 or 9 fault gases. Reliability is the same as laboratory DGA's.
(2) Quick measurment.
(3) Powerful software controlled intelligent operation.
(4) Automated syringe shaker.
(5) Ruggedized carrying case.
(6) Light weight and small size.


Specifications
Dimensions: 625 x 500 x 297mm
Weight: 18kg
Power supply: AC 220V±10%, 50Hz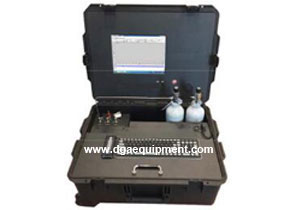 If you would like to discuss your requirements for this product further, please email us at sales@dgaequipment.com or use our enquiry form.