Model: MG-II-T Oil Dielectric Test Set up to 100KV
Measures the dielectric strength/breakdown voltage of transformer oil and other insulating liquids.
The maximum test voltage of this oil tester is up to 100kV.
The majority of high-voltage transformers, cables, switchgears, transducers, capacitors, and rectifiers use insulating oils for insulating electrically live parts and to carry off thermal energy. The quality of the insulating oil must be checked at regular intervals to ensure a long equipment service life. The most important requirement of an insulating oil is a high dielectric strength. Determination of the dielectric breakdown voltage of insulating oils provides an early detection method for any reduction in the insulating properties.
Conforms to IEC 60156, IS 6792, BS 5874, ASTM D1816, ASTM D877.

Technical specification
Fully automatic test set
LCD displays testing process and result
Output voltage: 0 - 100kV
Voltage increase rate: 0.5kV/s±10%, 2kV/s±10%, 3kV/s±10%, 5kV/s±10%
Continuous testing numbers: 1 - 9 times
Maximum 100 testing data storage
Strong ability to anti-interference
Built-in thermal printer offers direct reporting of results
Ambient temperature range: 5°C - 40°C
Power supply: AC 220V, 50Hz (or At user's option)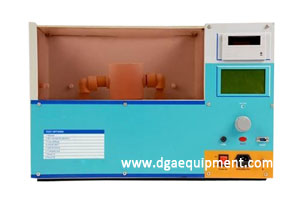 Related Products
MG-II Dielectric Breakdown Voltage Tester up to 80KV
MG-II-S Dielectric Breakdown Voltage Tester 80KV / 100KV
MG-II-C Dielectric Breakdown Voltage Tester - Three Oil Cups
If you would like to discuss your requirements for this product further, please email us atsales@dgaequipment.com or use our enquiry form.